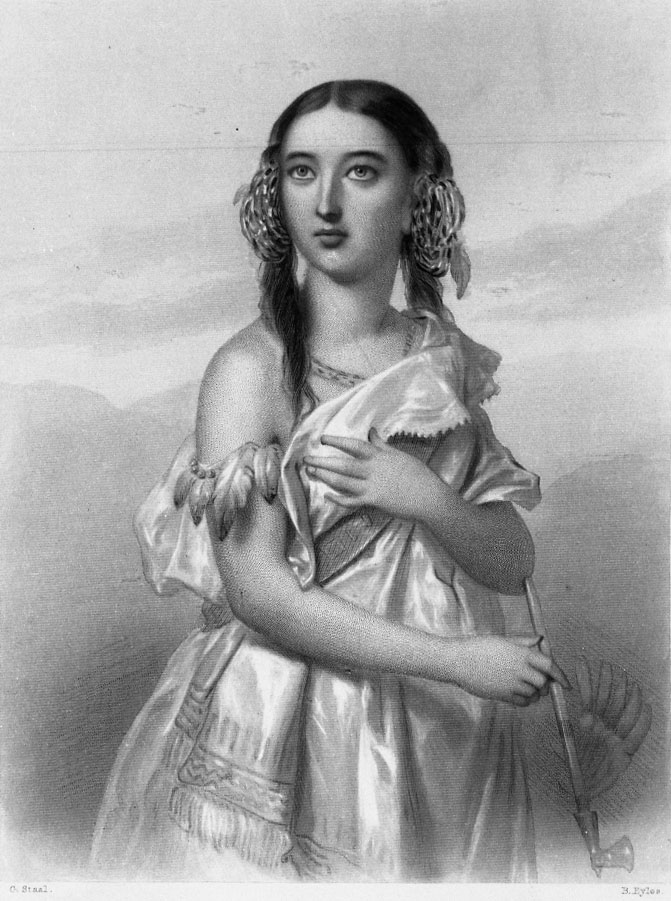 Pocahontas
Milestones
1596

Birth

Daughter of chief Powhatan

1608

Ordeal

Saved John Smith from execution

1613-1614

Religion

Conversion to Christianity

1614

Marriage

Wedded John Rolfe

1616

Ordeal

First journey to England

1617

Death

Gravesend, England

Memorial

Statue at St. George's Church, Gravesend, England
Pocahontas: The Unknown Heroine Every Child Should KnowRead more...
Julia Fuller
Although Hamilton Wright Mabie and Kate Stephens bill the subjects of their collective biography as "heroines every child should know," the entry on Pocahontas is marked by indeterminacy. There is surprisingly little that can be known about the woman who has secured such an eminent place in early American history. During the nineteenth- and early twentieth-century, she consistently appeared as a subject of biography; however, presentations of her 'life story' record a few verifiable milestones (birth, religious conversion, marriage, death) within the context of popular legends about her, repeated so often that they have crystallized in a mythic figure. Today, historians suggest that the narrative by which she is characterized as a heroine—her rescue of Captain John Smith—was actually a Native American ritual or a mock execution and deliverance, performed to foster relations with the English settlers. It now is believed that her actions were romanticized in Smith's account of the episode, which was not written until much later. Nonetheless, his crafted rendering was reproduced as fact in a long line of tributes, which together have contributed to mythologizing her role in America's foundation. Yet even as what is known about her changes, our notion of 'Pocahontas' persists.
A critical synopsis of Hamilton Wright Mabie and Kate Stephens's Heroines That Every Child Should Know. Biographical information also informed by Alden T. Vaughan's entry on Pocahontas in the Oxford Dictionary of National Biography.