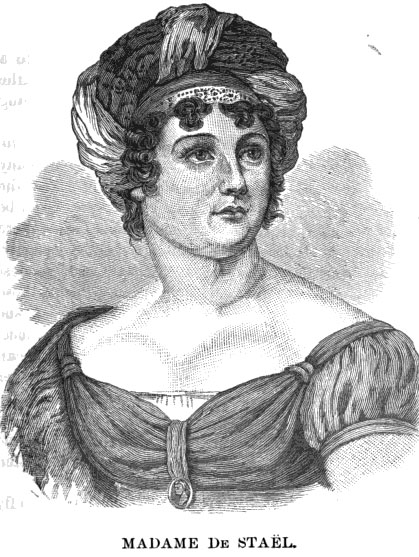 Madame de Staël
Milestones
1766

Birth

Financier's daughter, Paris

1786

Marriage

Married Erik Magnus Staël von Holstein, a Swedish court official

1788

Vocation

First publication under her own name, Lettres sur J. J. Rousseau

1803

Ordeal

Exiled from Paris by Napoleon; moved to Germany

1807

Vocation

Corinne, ou L'Italie

1816

Ordeal

Returned to Paris out of exile
Madame de Staël as Genius in a War of Wills with NapoleonRead more...
Alison Booth
Katie Daffan intends to write a eulogy of a woman who had the brilliance and courage to withstand the heroism and hostility of Napoleon. As presenter, Daffan loves redundant adjectives and fauns over historical celebrity; her heroine is an exception rather than a demonstration of women's equality with men (she asserts, for instance, that there were no other learned women writers at that time, and that women in general have no sense of justice). This short biography belongs in a chronological series of queens and female leaders, beginning with Cleopatra and including Joan of Arc, Queen Elizabeth I, Madame Roland, and Queen Victoria. Madame de Staël's life is characterized as a spectacle with surprising turns of events, all eyes on the heroine. Her many admirers and distinguished friends and visitors add to the theme of recognition. Writing in the early twentieth century (1908), Daffan subscribes to a belief in genius, and begins with high praise for it:
A critical synopsis (excerpts and commentary) of "Madame de Staël" in Katie Daffan, Woman in History 254-69.