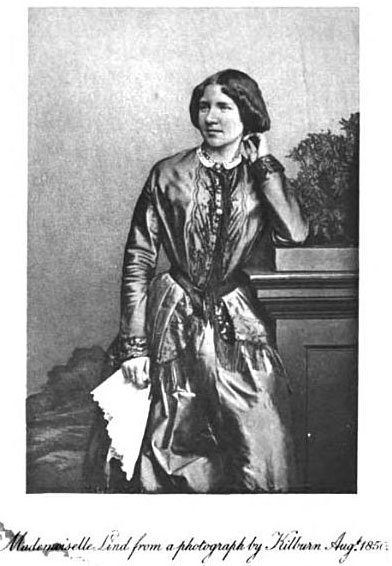 Jenny Lind
Milestones
1820

Birth

Stockholm, Sweden

1820-1824

Childhood

Parents unable to provide; sent to live with church organist

1840

Recognition

Member of Royal Swedish Academy of Music

1850

Vocation

Began American concert tour

1852

Marriage

Wedded pianist Otto Goldschmidt

1887

Death

Worcestershire, England
Multiple Perspectives on the Life of the "Swedish Nightingale"Read more...
Julia Fuller
In daguerreotypes, Jenny Lind today strikes us as unexceptional: modestly plain (if not homely), with a serene, even reserved countenance. This unassuming Swedish woman was an international opera sensation in the nineteenth century. Our inability to hear her voice or witness her dramatic power may explain why her fame has faded away. Biographers who wrote tributes to the opera singer during her career describe her performances with manifest emotion, giving us an indication of her captivating presence on the stage. Known as the "Swedish Nightingale," she began in lower-class obscurity and rose to become recognized by royalty as an indigenous treasure. On concert tours, overwhelming crowds thronged to greet her arrival; and, after a show in London, even Queen Victoria threw a bouquet down to her from the royal theater-box (Rosen). She remained humble in the midst of celebrity and is esteemed alongside great women of prosopography for her vocal talents as well as her charitable example—after retiring professionally, she gave free concerts to raise donations for hospitals and the needy. Rediscovering her through written accounts, along with a wealth of popular-culture materials, including ephemera, cartoons and advertising campaigns, creates a picture of an exceptional figure whose biography intersects with issues of class, the arts in society, and public women.
A reading of the gender and class issues which intersect with Jenny Lind's life, based on prosopography sources as well as nineteenth- century popular-culture materials.