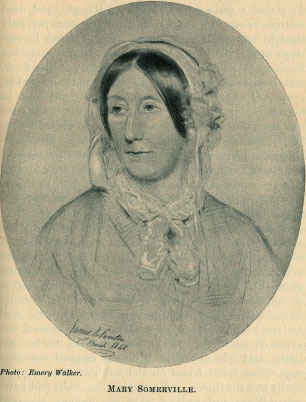 Mary Somerville
Milestones
1812

Marriage

Wedded second husband, William Somerville

1831

Vocation

Published The Mechanism of the Heavens

1835

Recognition

Elected Honorary Member, Royal Astronomical Society
Sincerity in Science: The Life of Mary Somerville.Read more...
Erika Johnsen and Jennifer Kim
Mary Somerville was an outstanding mathematician and scientist of the Victorian period. Her scientific contributions were doubly significant: not only was she a woman working within a predominantly male domain, but modern science itself was a fledgling field struggling to claim a place in Victorian culture. Mary Somerville's enlightened work helped to establish science as a distinct area of study in Britain, and by the time of her death she was well-known throughout Europe for both her prodigious mathematical talents and her modest, polite, zealously self-motivated personality. Curiously, Mary was not a proficient reader until her early teens, and encountered her first algebraic problem only by chance. Despite the many objections from those attempting to deter her, and entirely through her own efforts and determination, she became an internationally renowned authority on emerging sciences, including physics and geography.
From 'Lives of the Victorians' blog at Wordpress.com.