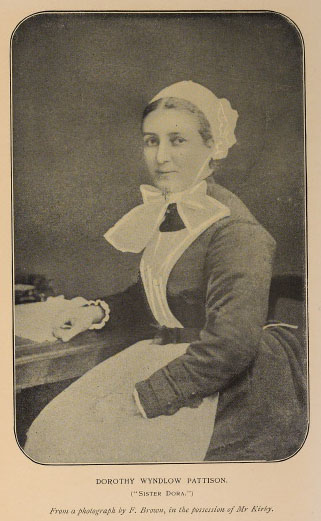 Sister Dora
(Dorothy Wyndlow Pattison)
Milestones
1832

Birth

Clergyman's daughter, Yorkshire

1864

Vocation

Joined Christ Church Sisterhood, Coatham

1875

Ordeal

As surgical nurse, Walsall, ran quarantine hospital in small-pox epidemic
Alison Booth
DOROTHY WYNDLOW PATTISON was born at Hauxwell, near Richmond, Yorkshire, England, on January 16th, 1832, the eleventh of twelve children (the tenth daughter) of the Rev. Mark James Pattison (1788-1865) and Jane Winn (1793-1860), daughter of a banker and former mayor of Richmond. Rev. Pattison was strictly evangelical and mentally unstable; his wife was induced to commit him to an asylum for almost a year in 1834-1835. The eldest son, Mark Pattison (1813-1884), became an Oxford don and for a time joined the high-church Oxford Movement. The father tried to cut off all communication between the nine sisters at home and this supposed Papist infection, though Mark fostered Dorothy's education and she was often his companion on holidays and visits. The tension between father and son set the stage for Dorothy's non-dogmatic religious fervor, but in her career she broke away from both father and brother.
Based on ODNB, Mabie and Stephens (M+S), an adaptation of Baring-Gould, drawn from Margaret Lonsdale's full-length biography of 1880.
Links
John Westmacott, "Sister Dora of Walsall."


John Westmacott's concise biographical article about Sister Dora. A note indicates that the article is printed by permission of 'Our Inheritance Ministries', Polegate, East Sussex. Text linked through the website of the Ebenezer Baptist Church in England.

Margaret Lonsdale, Sister Dora: A Biography. 6th ed. Boston: Roberts Brothers, 1880.


Margaret Lonsdale's seminal biography about the life and work of Sister Dora. The first ("Copyright") edition, vol. 1911 in Collection of British Authors, Leipzig: Tauchnitz, 1880 (with "The right of translation is reserved," this was a standard imprint to establish copyright), has the epigraph from Spenser and the frontispiece portrait of Sister Dora that is adapted in many illustrations; it is essentially the photograph credited to Mrs. Williams, Wolverhampton, in our "carousel" above. Unlike later editions, the first edition presents this frontispiece above a printed script "signature" of the subject and at the bottom of the page an illegible (apparently holograph) identification of the image. Lonsdale in the preface (in later editions, "Preface to the First Edition") faults this portrait: "Mr. Jeens was seriously ill when he undertook it," so it lacks the "spirit" of the living original and the photograph (Little, Brown, 1880: iii-iv). This preface also explains that Lonsdale has preferred to avoid the "many stories...possessing an element of the marvellous, nay, of the supernatural, which would have made her biography sensational, as well as more interesting....I never heard one of these stories from her own lips"; they arose from "the veneration...by the ignorant and the superstitious, as well as by the credulous among the educated" (iv-v)."Preface to the Fourth Edition," dated January 31, 1880, notes deletions of letters (included in second and third editions) concerning Sister Dora's deathbed conversion: she in fact "never became a member of the Roman Catholic Church" (268). Lonsdale has also removed mention of autopsy (vii-viii). She alludes to an outcry against her in Walsall, and insists that Sister Dora wanted her own life to be written; in final "justification," Lonsdale adds that this life is "public property," not the exclusive treasure of Walsall (viii-ix). With these alterations, the American editions are "From the Sixth English Edition," and those in 1880-1881 through 1914 (32nd ed.) appear to use identical plates, though pagination varies depending on whether it begins with front matter or chapter one. London: Kegan Paul, 1881 omits the preface to the fourth edition. Links through Google Books and Internet Archive.

Susan McGann, "Pattison, Dorothy Wyndlow [Sister Dora] (1832–1878)." Oxford Dictionary of National Biography. Ed. H. C. G. Matthew and Brian Harrison. Oxford: OUP, 2004.


Oxford Dictionary of National Biography entry on Sister Dora written by Susan McGann. This comprehensive biographical record includes a list of other sources and archive materials related to Sister Dora.