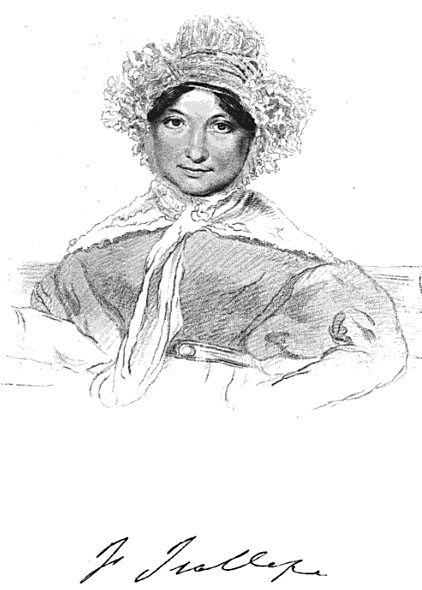 Frances Trollope
Milestones
1779

Birth

Bristol, England

1809

Marriage

Thomas Trollope, barrister

1827

Vocation

Moved to America

1832

Vocation

Published Domestic Manners of the Americans

1832-1857

Vocation

40 novels (115 volumes) published

1863

Death

Florence, Italy
A Short Biography of Frances TrollopeRead more...
Susie Ranny and Ashley Overbay
"Frances Trollope's nature was such that welcomed every ray of sunshine, and diffused it again liberally around her. To her children no holiday was preferable to a tete-a-tete with her" (Trollope, 47), Frances Eleanor Trollope writes of her husband Thomas Adolphus Trollope's mother, famed novelist and travel writer Frances Milton Trollope. Best known for her unflattering portrayal of young American democracy and "civilization" in Domestic Manners of the Americans (1832), "Fanny" was best recognized in her family for her loving nature, great intelligence, and delightful sense of humor. Ironically, however, Americans of the period found Mrs. Trollope to be every bit as crass as the backward peoples she described. Fanny, for her part, entered America a poor, liberal, enterprising, and hopeful mother, and left the country four years later poorer still, conservative, and downtrodden. Yet Fanny ultimately saved her own family through her caricature of American life and her production of pleasing fiction.
From 'Lives of the Victorians' blog at Wordpress.com